Founded and rooted in the Gospel values of the Catholic church and the charism of the Sisters of St. Joseph of Carondelet, the Academy of Our Lady of Peace empowers young women in an innovative learning environment that honors the individual while fostering community, and develops faith-filled leaders dedicated to the love of God and the dear neighbor without distinction.
MISSION STATEMENT
& Philosophy
The school is committed to research-based practices...
... which foster intellectual curiosity and a passion for learning through an interdisciplinary lens, in order to form collaborative learners, visionaries and innovators.
Looking toward preparing students for the future, critical thinking skills are woven across the curriculum, leveraging technology as a tool to facilitate student learning in an ever-changing world.
An OLP student is encouraged to explore her passions within academic, athletic, co-curricular and spiritual activities, and develop a mindset ready to take risks and to strive for excellence.
The school celebrates the uniqueness of the individual girl...
...and intentionally strives to foster an inclusive community, celebrating sisterhood and unifying love.
While OLP endeavors to ensure there is a richness of opportunities to challenge student thinking, cultivate confidence and expand her capacity, rigorous learning is consistently balanced in an environment of support and joy.
In partnership with parents as the primary educators, OLP seeks opportunities to actively engage them in their daughter's transformative academic and faith experiences.
---
Welcome to the Academy of Our Lady of Peace!
The Academy of Our Lady of Peace (OLP) is a rigorous college preparatory school with an unparalleled leadership program and a variety of co-curricular activities. For 141 years, we have been educating young women in the spirit of excellence and innovation that characterizes our founding Sisters of St. Joseph of Carondelet.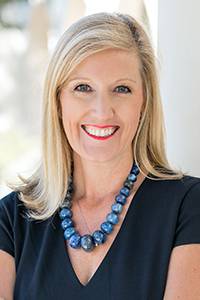 We follow in the footsteps of many a brilliant and dedicated educator who established a holistic view of education that included the mind, body, and spirit. In that, we follow the mission to engender a collaborative worldview in the tradition of the Gospels. Additionally, OLP has been recognized as a Blue Ribbon School of Excellence by the U.S. Department of Education. You will find, here at OLP, a community who is proud of its rich history and is committed to outstanding achievement.
Since its founding in 1882, the Academy of Our Lady of Peace has been faithfully serving the families of San Diego and its surrounding county. Inspired by the charism of the Sisters of St. Joseph of Carondelet, students at OLP are challenged to become women of heart, women of faith, women of courage, and women of excellence. We ensure that girls find their voice and are given the skills to compete as women across all levels, regardless of their career aspirations. The character of our alumnae represents the success of the multidimensional foundations imparted to each girl during her four year term.
Taking that responsibility to serve as a model for our young women, I personally lead prayer each Monday morning on PTV, and incorporate one of the Maxims of Perfection, rooted in the spirituality of our sponsored order, our Sisters of St. Joseph of Carondelet. You can read more about the Maxims, just below.
I invite you to come to our campus and meet us. There is a tangible energy and excitement around learning and an authentic sisterhood that permeates our grounds and our halls, where young women learn of their own strengths while placing value and respect for the gifts of others.
Come see the energy. Come feel the excitement. Come experience academia in motion. And again, welcome to OLP!
Dr. Lauren Lek,
Head of School
Integral Student Outcomes (ISOs)