Tap your creativity in the OLP dance, drama, or visual arts programs, where you will be empowered to hone your love of the arts.
We offer courses for all levels—for those exploring performance for the very first time to lifelong artists — and encourage girls to explore new areas, styles, and techniques. Whether you want to find your voice in one of our vocal music or theatre programs, bring movement to the music that moves you, or add your voice to the art surrounding us, you're sure to find your place at OLP.
When learning is approached through, with and by the visual and performing arts, creativity is cultivated, innovative thinking is fostered and imagination is both celebrated and enhanced. OLP provides and requires participation in visual and performing arts course work through a vast array of innovative elective courses including Pilot TV, digital arts, dance, painting, watercolor, ceramics, music theory and more.
Dance
In the OLP dance studio, students learn and rehearse in a variety of dance styles and perform in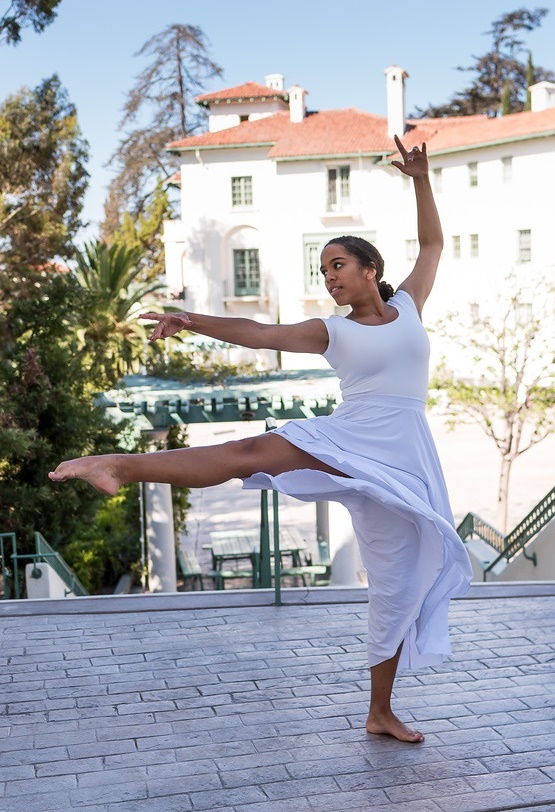 assemblies, the annual spring concert, on tour and in other special performance events.
Dance offerings include three levels of contemporary dance, multilevel jazz, core fundamentals, and an advanced level performing group. All levels have the opportunity to participate in master classes by professional guest artists, view live professional dance companies, and experience the accomplishment of performing. Advanced students can composition and choreography through independent study in our AP Seminar or AP Research interdisciplinary courses.
Our new state of the art dance studio provides a professional space adjacent to our new theater with audio/visual equipment allowing the opportunity for students to critique their work as well as view historical and contemporary performances.
Drama
Step outside of yourself in the OLP drama program. Theater students are introduced to concepts of acting current in American theatre and do exercises and improvisations designed to free them as actors. Sensory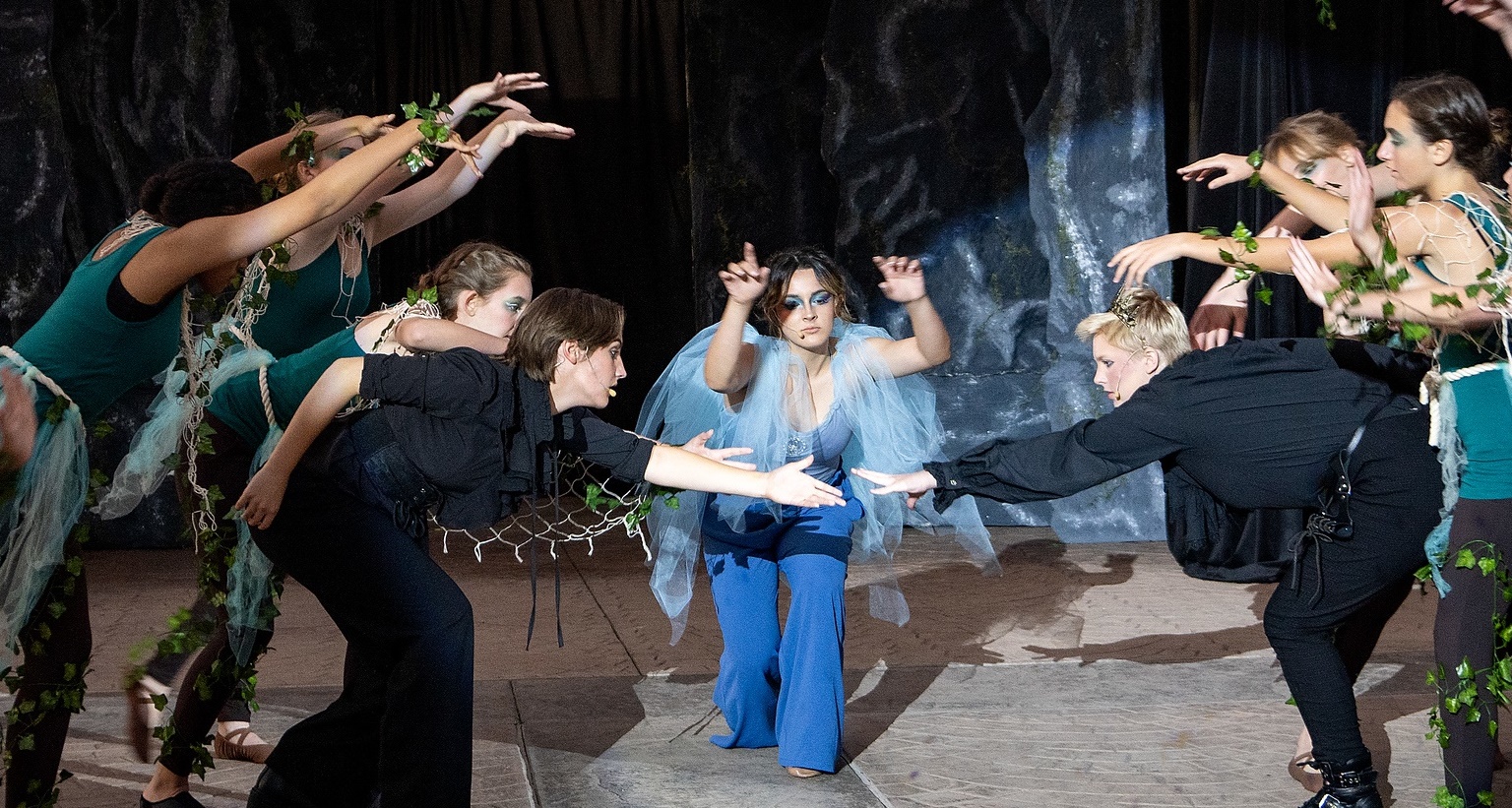 awareness, text analysis, and vocal and physical techniques are stressed, and special attention is paid to exercises helping students use their own imaginations with confidence.
In addition to acting, OLP offers courses in technical theatre. These classes are designed to help students gain a thorough understanding of theatrical and staging techniques as they have evolved through history.
Credit is granted to participants in school productions. Our productions include both one-acts, musicals and mainstream productions ranging from our new 250-seat auditorium to intimate performances, or our 750 plus outdoor Aquinas Amphitheater.
Music
The OLP music department boasts both instrumental and vocal ensembles. The instrumental music program is open to instrumentalists by audition. Our choirs perform both sacred and secular music of a variety of compositional styles and languages. The OLP advanced choral groups, are open to members of choir by audition.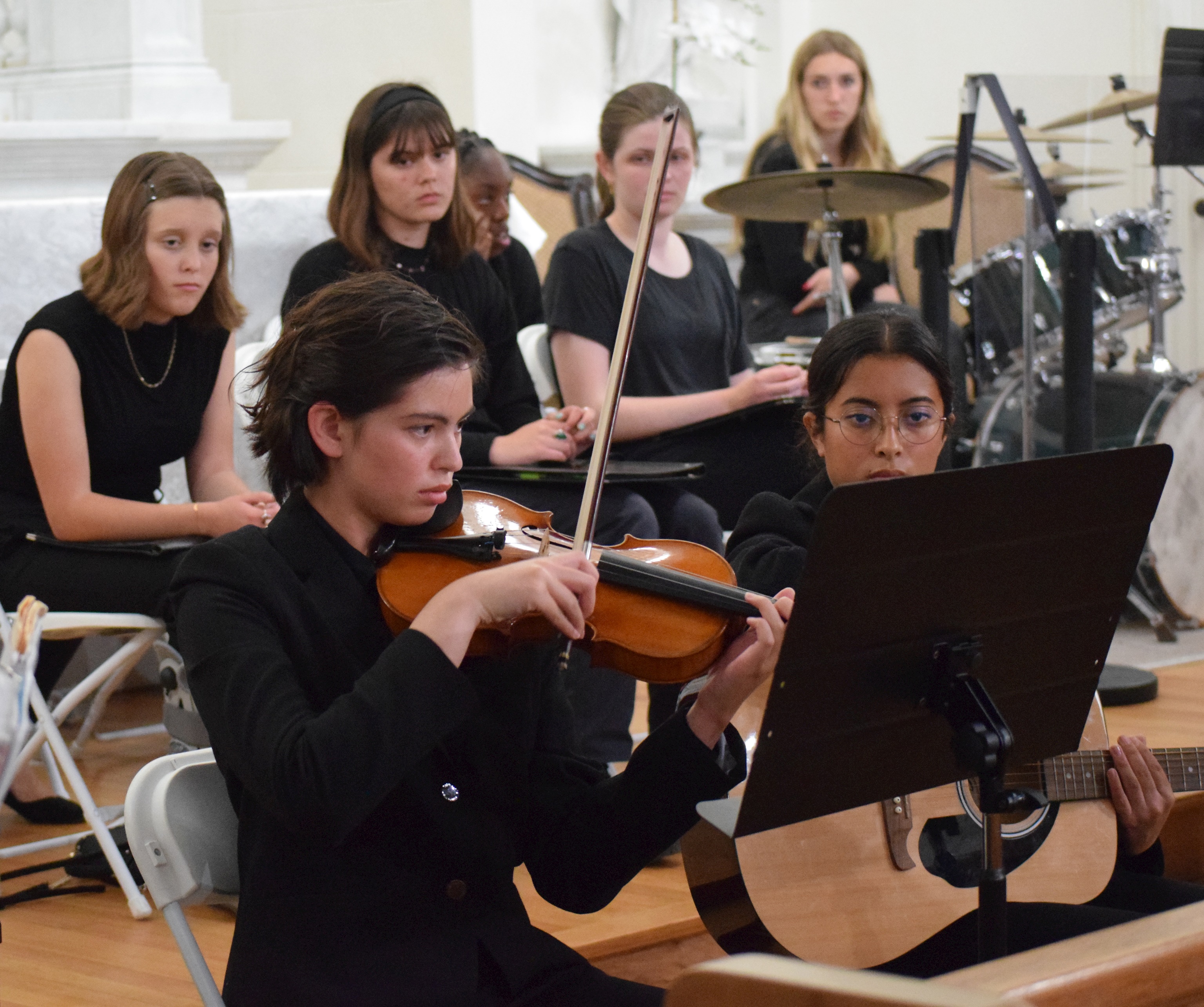 In addition to our ensembles, the OLP music department offers courses in music theory, and AP music theory. Students are able to take private vocal and instrumental lessons through our on-campus adjunct instructors and our Practicum program. The music classes and ensembles offer many opportunities for growth as we seek to engage with the student on their journey to find their voice.
Visual Art
The OLP visual arts studio offers the perfect setting for students to immerse themselves in the creative process. Introductory classes provide a strong foundation in a variety of media, while advanced classes stress self-expression and the development of personal themes. Many students assemble portfolios for college applications and the AP Exam in Studio Art. Our students' artwork consistently wins recognition in various competitions.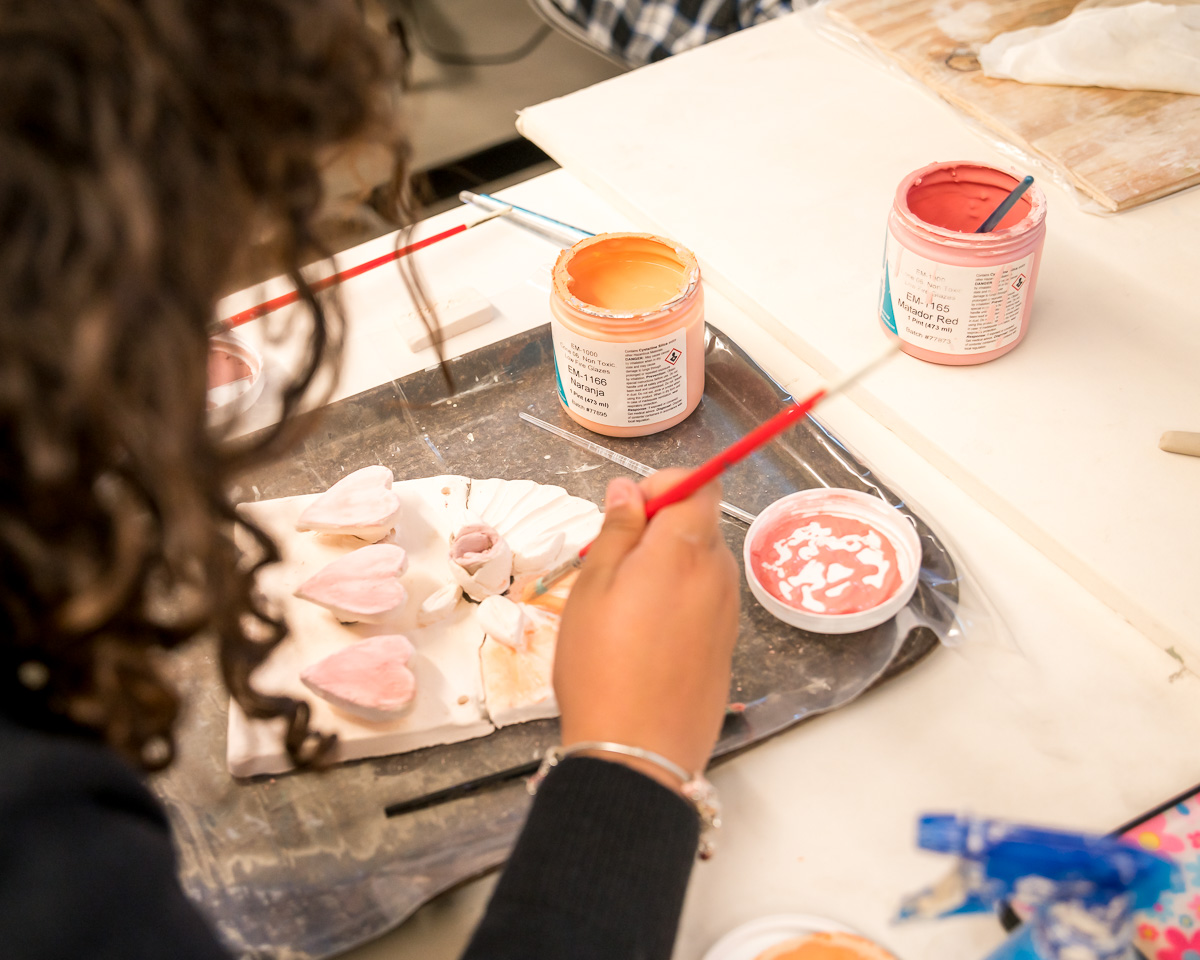 The spacious student art gallery in our second floor Navarra hall, allows student artists the opportunity to exhibit their work as well as to interact with professional artists through class visits. Students also have the experience of showing their work in additional exhibit spaces on campus and outside of school. Various publications, including our literary/arts magazine highlight student artwork throughout the year.

Students learn to make decisions in situations where there are no standard answers and to critically evaluate the results. We hope that they will leave their art class, as with nearly any class here at OLP, having learned to respect the often very different ways others think, work, and express themselves.
VAPA Course Offerings
Dance
Drama
Music
Visual Arts
Introduction to Dance
Dance I and II
Dance III and IV
Advanced Dance Honors
Drama I/II
Drama III/IV
Drama V/VI
Technical Theatre I/II
Concert Choir I/II
Advanced Choral Ensemble
Instrumental Ensemble
Advanced Instrumental Ensemble
Music Theory
AP Music Theory
Video Production I/II
Video Production III/IV
Advanced Video Production
Digital Storytelling
Digital Photography I/II
Multimedia Design
Journalism
Art I/II
Painting I/II
Handbuilding Ceramics I/II
AP Studio Art: 2-D Design
AP Studio Art: 3-D Design
AP Studio Art: Drawing
Visual & Performing Arts practicum is offered as an independent study course to provide individual students with the opportunity to further explore special talents or interests in the arts. Students will work with the classroom teacher to set personal learning goals and to determine the type of project or learning experience they would like to pursue. Students may have the option of taking VAPA Practicum in tandem with a regularly scheduled class, but will have leadership opportunities, special projects and coaching in the class to be determined based on the individual's interests and abilities. This course is designed to supplement a student's educational pathway and passion in the arts. Instructor approval is required in order to enroll in VAPA Practicum.
Areas of study available: Dance, Music (Instrumental, Choir, Music Theory), Drama, Art, Video Production)
Profiles
Kelly Culver
Department Chair, Faculty
Gilberto Moreno Sánchez
Faculty